Julie is stuck with her basement remodel after she purchases furniture and paints. She reaches out to Susan Atwell of AtWell Staged Home for help to finish the space.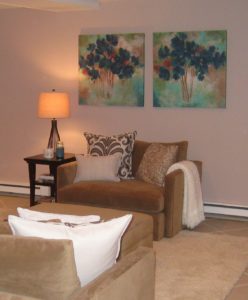 Have you ever struggled with a DIY project? It seems so simple, but when you're done, it's just not quite what you hoped it would be? Julie found a way to have DIY satisfaction with her basement remodel while saving money on full design services.
As a home stager, my favorite projects are spent collaborating with home owners. A client that wants to do it herself but needs a little design guidance, someone to bounce ideas off of, to go shopping with, or to hire the perfect contractor.
For Julie, we start with a two-hour consultation in her home. We review the projects she has already completed and discuss changes she would like to make. At the same time we discover her likes, dislikes, and vision for her home.
The initial consultation is a total "brain dump" of ideas not only for the specific space but also for the other spaces in her home. Each room is interconnected and understanding how Julie lives in her home is key.
The meeting is thorough, and our goal is to prevent expensive mistakes. One of my favorite sayings is, "Fail to plan, plan to fail." Having the opinion of a professional before any more money is spent will give her confidence and guide her in the right direction.
At the initial consultation, the ideas proposed include creating a separate laundry room, adding an electric fireplace to work around an awkward corner unit, improving upon a built-in wall cabinet currently hiding pipes, and enhancing the flow of her home office. At our follow-up visit, we review the ideas with contractor Andrew Spector of A. Spector Home Improvement. Once the design is agreed upon, all we have to do is shop for pillows, art, a custom area rug, and a fireplace insert.
My goal is to help as much (or as little) as needed. To give my clients the courage to move forward with their ideas while guiding them in making cost-effective decisions that will work for them now, in the future, and, of course, when they sell.
Here's what Julie has to say about her basement remodel:
"I am so happy with the basement renovation, my updated office space, and new laundry room. It's so nice to be able to exercise in front of the TV, turn on the fireplace any time of year, close off the laundry area so the sound does not compete with the TV, and just to have such a huge built-in laundry workspace compared to before. Working with you and Andrew (the contractor you recommended), really was a pleasure. Finally, and most important, my daughter absolutely loved the renovated basement! She thoroughly enjoyed all the changes during her summer break from school. My sister was over recently and loved it as well. Can't thank you enough for the wonderful job you did. I could not have done this by myself. I think it all came together just perfectly!!"
– Julie O., Somers, NY
(Click images to enlarge.)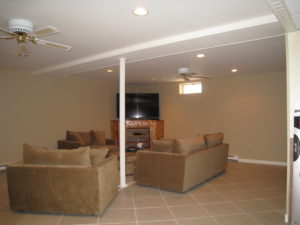 Basement – Before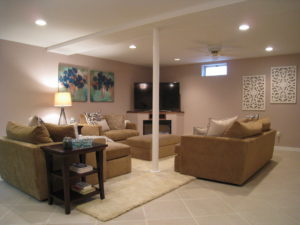 Basement – After
All the bones are here. The walls are freshly painted, furniture is new, and the floor is a nice neutral tile. We fix the oddities, as described above, making sense of what is there. It's now a great space for her daughter to hang out, for entertainment, or to get away from it all.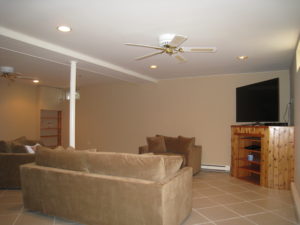 Basement – Before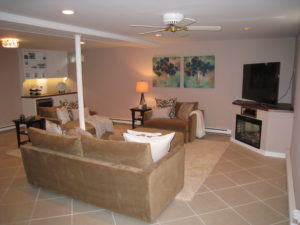 Basement – After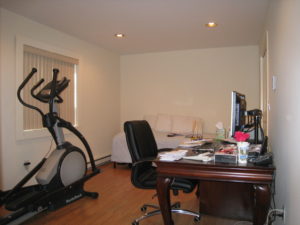 Basement Office – Before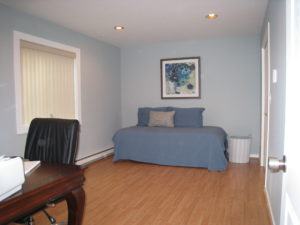 Basement Office – After
Julie needs a great space to work, but she also needs a space that can serve as a guest room. The door is changed to swing to the right, cable is moved to the left wall, and the exercise equipment is moved to a larger space in the basement where she can work out and watch TV. The room is balanced, more spacious, and Andrew helps Julie pick a paint color to match the bedding.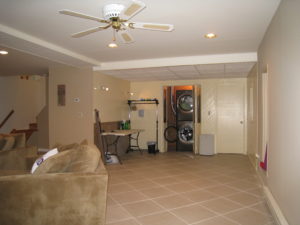 Basement Laundry Area – Before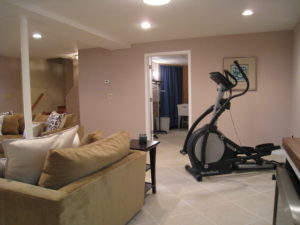 New Basement Laundry Room – After
Actually, there is no dedicated laundry room before—just a huge space with the laundry recessed into a tiny hole in the wall. Now Julie has an area that she can close off from the living area, or keep open, as she folds her clothes on a spacious built-in counter. Personally, I'm envious of this laundry room!

Additional interior views of the new laundry room.