Bedroom staging reclaims child's room for intended purpose at minimal cost.
As a general rule, a home with four bedrooms should have at least three staged as bedrooms. The fourth can be staged as an office, gym, or hobby room.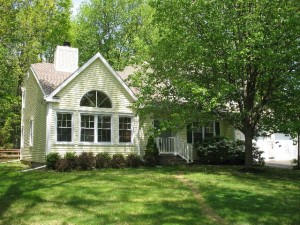 In this Mahopac, NY, home, the third bedroom is already being used as an office. The fourth as an exercise space (shown below). It's necessary to convert one back to its intended purpose. After our home staging consultation, the home owners prioritize their needs and choose to convert the gym.
Even though this couple's children are grown and gone, the home owner has fun turning the room into a little girl's room. Why? Because potential buyers will most likely have young children.
Staging this bedroom as a little girl's room makes it easier for potential buyers to picture themselves living here. All items are found in other areas of the home, or taken from storage, for an easy transformation.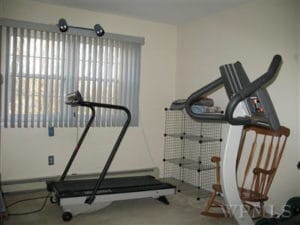 Before Bedroom Staging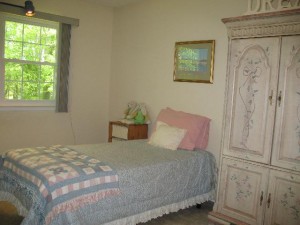 After Bedroom Staging
Staging makes the inside of this beautiful home as appealing as the outside. No cost changes finally lead to a sale. Prior to staging this home is listed for six months with no sale. After staging it sells in less than three. Budget staging at its best.
Other changes made by the home owners after a 3-hour home staging consultation with AtWell Staged Home are:
Great room now lives up to its name with improved furniture placement and flow.
Kitchen is simplified and decluttered.
Vertical blinds are removed in kitchen, great room, and formal living room to show off one of this home's best features, its large walls of windows.