Home staging, move-in decorating, basement decorating, for this client—we've done it all.
After successfully staging her 4,000-square-foot Katonah, NY, home, this seller decides to rent instead of buy. But to make this rental feel like home, she calls on her home stager, Susan Atwell of AtWell Staged Home to help get it done quickly, on budget, and the way she likes it.
When Lin Crispinelli of Houlihan Lawrence in Somers, NY, brings me in for an agent-paid, 2-hour home staging consultation for her client, Nancy, I couldn't have imagined that almost two years later, Nancy and I would still be working together. I am flattered when Lin calls again to inform me that Nancy would like my opinion on the rental units she is reviewing.
Nancy is very interested in a Brewster, NY, unit, just a mile north of the Westchester line. My only concern is the narrow doorway, which may not allow us to accommodate her collection of antique and high-end furniture. Even so, Nancy ultimately decides on this Brewster home, and we begin our work.
First, we measure and review the new Brewster rental. Next, I meet with Nancy at her Katonah home to identify which pieces she will keep and which she will sell or give away.
After making a plan for the placement of the large furniture pieces in the new home, I arrive on moving day to make sure we like the end result. If not, the movers are still available for last-minute tweaks.
It goes even better than expected, with all furniture fitting in its preferred position. Now I leave Nancy with the "fun" task of unpacking and getting organized in her new space.
When things settle a bit, Nancy calls me in again to pick out window treatments and to help her determine the placement of her extensive collection of art to be placed in all the rooms of this 3,000-square-foot rental.
The very last project is to turn the basement into an entertainment room and mini-theater. Nancy loves to entertain her nephews, family, and friends. She wants this to be a great space to watch a movie but also a cozy place to chat or read a book.
Going back to our original challenge, the only door to the basement is extremely narrow. We shop for furniture that will fit and is also budget-friendly. We find a sofa and chair with removable arms and feet. All we need is to take off the door to the basement and it will fit!
Additionally, we bring to this basement remodel a three-part wall unit to hold books, accessories, and serve as a small bar. We pair two pieces together while a third stands alone.
For this remodel we purchase just two chairs, an ottoman, and a sofa. All other furniture pieces, art, and accessories are from Nancy's own collection.
Mixing Nancy's existing collection with a few new pieces turns this formerly vacant basement into a warm and cozy room with plenty of entertaining spaces for friends and family.
Here's what Nancy has to say about working with Susan:
Hi Susan,
We so appreciate all that you have done to assist us in the sale of our old house in Katonah and in making our new abode so beautiful and warm.
We love working with you and always have lots of laughs while benefiting from your expert advice. The results of the basement entertainment area are incredible and speak so well of your talents.
You are a consummate professional with an exquisite eye for detail (an absolute maverick at your trade). Also, you never lose sight of your customers' budgetary needs.
In summary, you are a delight to work with and we wish you continued success!
 – Nancy P., Brewster, NY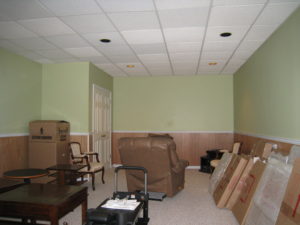 Before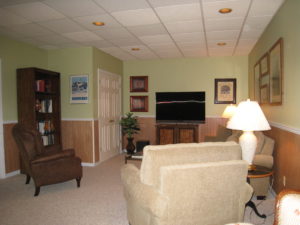 After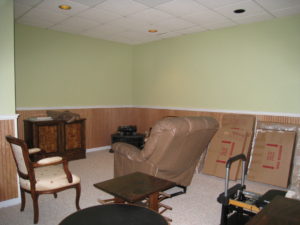 Before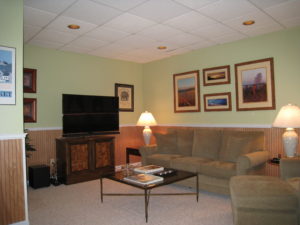 After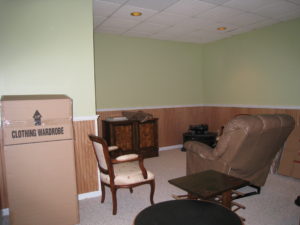 Before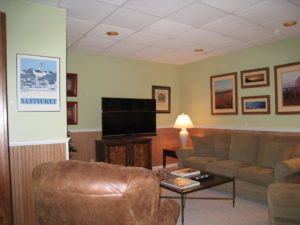 After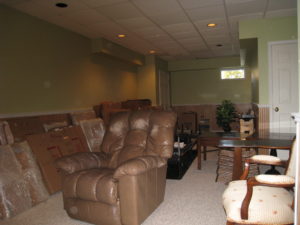 Before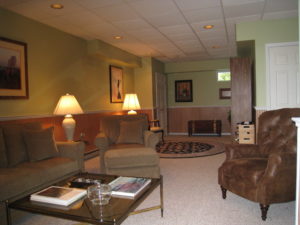 After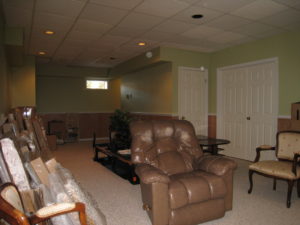 Before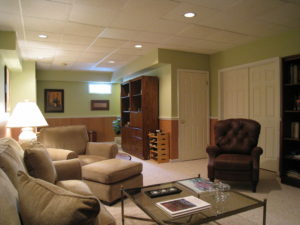 After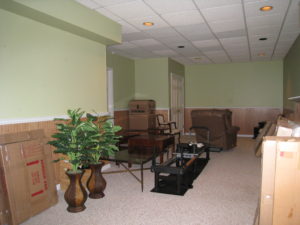 Before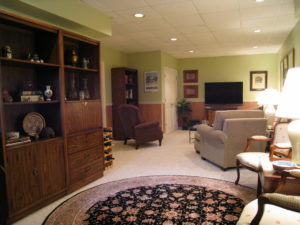 After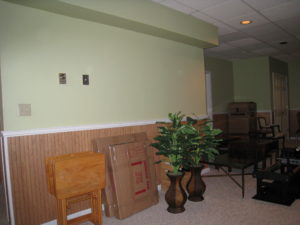 Before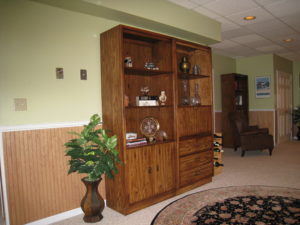 After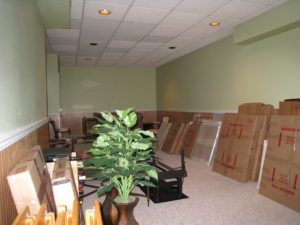 Before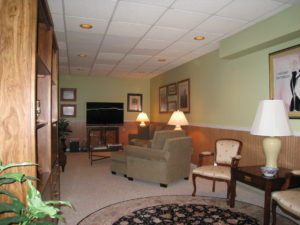 After