Ever instruct a home seller on staging their home only to have them take it to the extreme? Here's a Realtor's true story of extreme home staging.
True story. A real estate agent advises his sellers declutter. He specifically directs them to keep essential pieces of furniture in each room – even though it is an estate.
So what do these ambitious home sellers do? You guessed it. They empty the house completely. Decluttering taken to the extreme.
Consequently, the home takes much longer to sell than necessary. Has this ever happened to you?
Avoid this situation. AtWell Staged Home will spend the time to explain and show home sellers exactly what to do to stage their homes to sell. And we're available after the home staging consultation, by phone, email, or to handle more projects.
It's never too much or too little. With AtWell Staged Home it's always just right.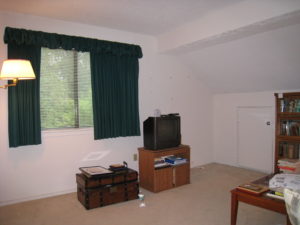 Den – Before Home Staging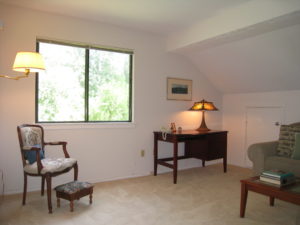 Den – After Home Staging
Using just what remains in the estate, this room is transformed into a cozy den/study. These sellers take their agents advice to leave the items in the home. Nothing extreme about this home staging except the extremely quick sale.
To assist your home sellers – especially in the case of an estate – use our guide Selling an Inherited Home: What You Need to Know.