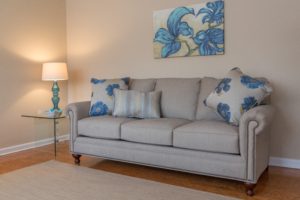 Condo sells first listing weekend with a backup buyer waiting patiently in the wings.
Bruce Dollar, Associate Broker, contacts me to stage a unique property in Cortlandt Manor's Valeria condominium complex after home owner Dave permanently relocates to Vermont. A former weekend retreat from New York City and most recently a rental unit, the home is now vacant and in need of minor repairs, paint, and decorating to help it sell quickly.
Bruce and I spend two hours at the initial consultation reviewing the home and creating a plan to stage this home to sell.
After agreeing the plan, home seller Dave gives AtWell Staged Home carte blanche to pick paint, new light fixtures, furniture, and accessories. All work is completed within just two weeks of the initial consultation. Dave remains in Vermont throughout the process, as Bruce and I handle everything here.
Bruce affectionately names this project 50 Shades of Beige after seeing the home painted a consistent neutral color scheme inspired by the heart of this home, the kitchen. The original paint color is "too fleshy", as the painter describes it. I just call it pink. The open floor plan and modest square footage are also better served by using a common color that works throughout.
After the sale, an agent with encyclopedic knowledge of the Valeria complex confides that there are units with much better floor plans, but it's the staging that makes this floor plan flow.
The home staging works, as just three days after the Broker open house, this 1,800 square-foot, three-bedroom condo has an accepted offer at 98% of asking. Not wanting to start a bidding war, a second interested buyer opts to play backup just in case this deal should fall through.
Here's how Bruce, the listing agent, describes the benefits of home staging for his clients:
"The unit sold the first weekend for 98% of its asking price. It's due to close in two weeks, which is partly what made the deal so attractive. The quick sale and closing minimize the time my seller would otherwise continue to pay taxes and carrying costs.

You should take a good deal of credit for this success, and you can quote me!

Thanks again for your good work."

Bruce Dollar
Associate Broker
North Country Sotheby's International Realty
Croton-on-Hudson, NY
We hope you enjoy these room-by-room transformations with "after" photos courtesy of Gene Moore, Pyramid Productions Group Inc.
Entry – Before Home Staging
Entry – After Home Staging
Functional and beautiful. With no real coat closet, we keep one set of hooks near the door, but replace the others with a space expanding mirror and table that shows this as a formal entry, not just a pass-through.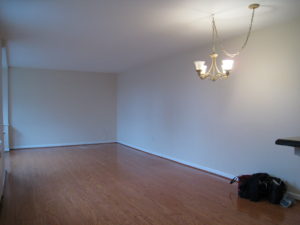 Living/Dining Room – Before Home Staging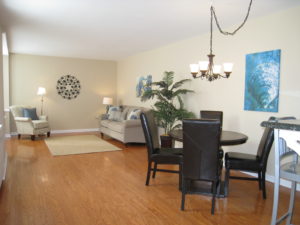 Living/Dining Room – After Home Staging
Chandelier is spray-painted black, fresh paint added, and simple furnishings and accessories show the potential this home has for relaxation and entertaining.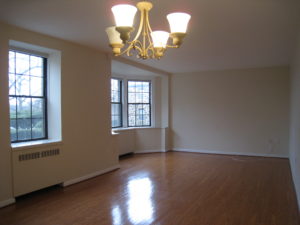 Dining Room – Before Home Staging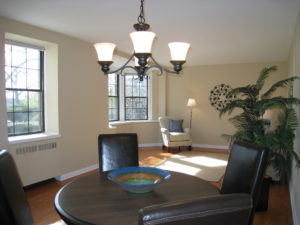 Dining Room – After Home Staging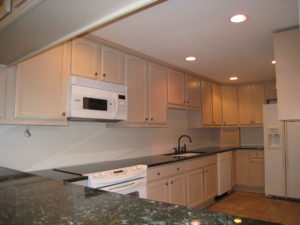 Kitchen – Before Home Staging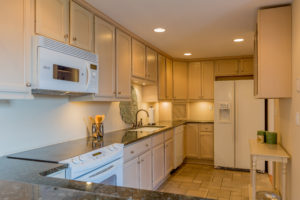 Kitchen – After Home Staging
A thorough cleaning, new knobs, paint, wall art, a work-table, and simple accessories warm this space. Without the addition of the table, walking into this kitchen is a hazard, with upper cabinets presenting an unexpected surprise.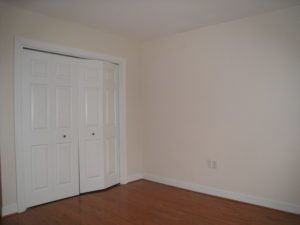 Third Bedroom/Office – Before Home Staging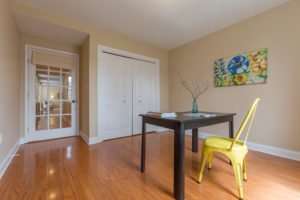 Third Bedroom/Office – After Home Staging
This main-floor room is a legal bedroom but can also be used as an office. We opt to define this space as an office and again add just enough furniture to give perspective, purpose, and warmth.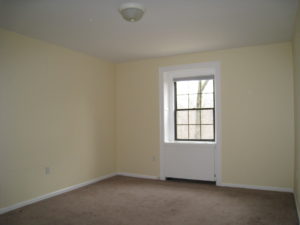 Bedroom – Before Home Staging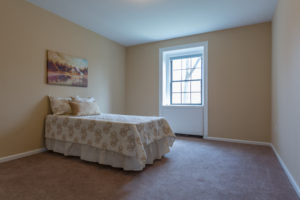 Bedroom – After Home Staging
Adding a bed immediately defines the space and shows the true size of this large bedroom.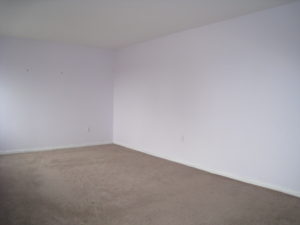 Master Bedroom – Before Home Staging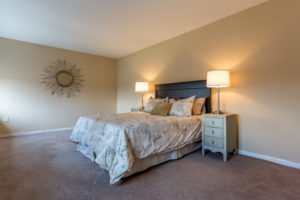 Master Bedroom – After Home Staging
Simple, modern, elegant.
Baths
With only two weeks to paint, clean, make repairs, and stage, there's no time to renovate baths. Instead, for the three baths and dressing areas, we pick more dramatic, yet neutral, paint colors, bold art, fresh towels, and accessories. Grout is repaired and baths are thoroughly cleaned. As only one bath is updated, the bold paint color and decorating make these other spaces feel more current than they really are.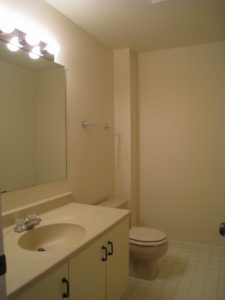 Powder Room – Before Home Staging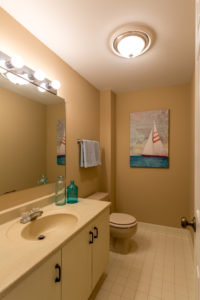 Powder Room – After Home Staging
Bathroom – Before Home Staging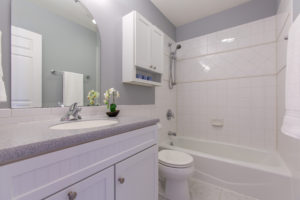 Bathroom – After Home Staging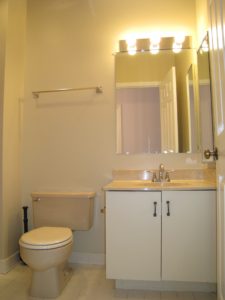 Master Bath – Before Home Staging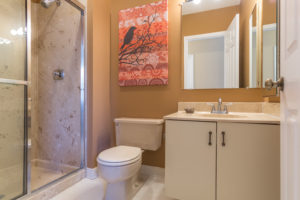 Master Bath – After Home Staging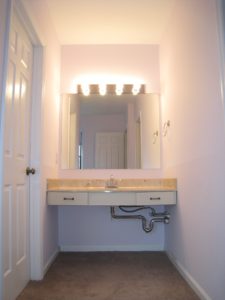 Dressing Area – Before Home Staging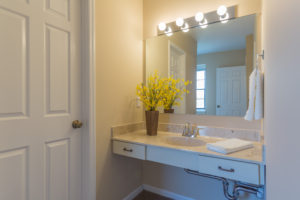 Dressing Area – After Home Staging