This Rockland County, NY, house lingered on the market for 9 months as the real estate market transitioned from a seller's to a buyer's market.
For less than 1% of the list price, AtWell Staged Home modernizes every aspect of a 40-year-old home being sold by the original owner. After home staging, it sells in just 2 months for 99% of asking with 3 offers and the beginnings of a bidding war.
"Susan provided my home with a fresh look and perspective on how the house should appear to make it attractive to potential buyers. Her plan was well designed and executed with ease and minimal expense. The outcome was making the house appear more spacious, cheery and bright, with updates that made it more in common with current decorative schemes. Without Susan, my house would still be on the market today."

– Joe M., Bardonia, NY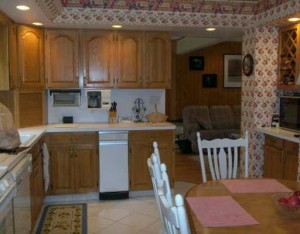 Kitchen – Before Home Staging (original listing picture)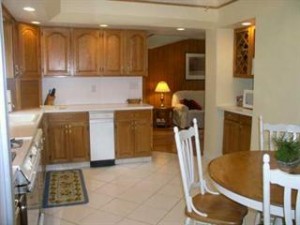 Kitchen – After Home Staging (new listing picture)
Before staging, the seller states that the kitchen has always been dark and dull. After removing the wallpaper and painting, the seller and his agent can not believe the difference. In addition to brightening the space with fresh paint, we remove the leaf from the table, eliminate all under cabinet appliances, declutter the counters, update the cabinet hardware, replace the chipped faucet, and the major appliances are cleaned to look like new. Overall, it just takes an infusion of staging to reinstate this room as the heart of the home.

Click here to learn more about kitchen staging.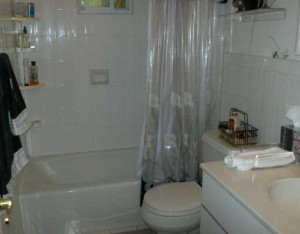 Bathroom – Before Home Staging (original listing picture)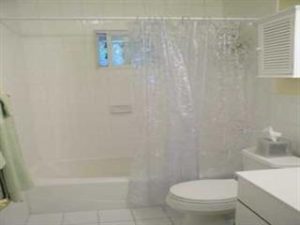 Bathroom – After Home Staging (new listing picture)
Before staging, the bathroom appears unsanitary. After staging…a completely different story. A deep cleaning, wallpaper removal and a buttery-yellow paint transform this bathroom into an entirely new space. A rusty medicine cabinet is replaced with a custom mirror and an inexpensive white cabinet over the toilet. To expand and brighten this small bath, extra lighting and a translucent shower curtain are added. As the only full bath in a four-bedroom home, the majority of the budget is focused here. Staging brings the shine back to this hidden gem.
Click here to learn more about bathroom staging.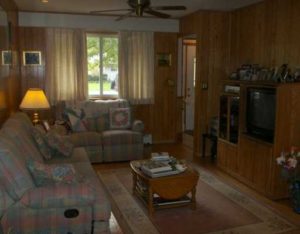 Family Room – Before Home Staging (original listing picture)
Another seemingly dark space.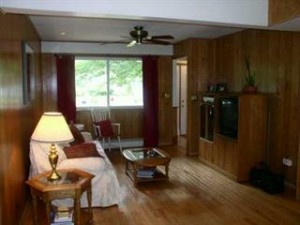 Family Room – After Home Staging (new listing picture)
Dated and dirty area rug is removed revealing the beautiful hardwood floors beneath. Loveseat – which is too large for the space – is replaced with a smaller chair and accent table. A cream slipcover freshens the sofa and coordinating pillows and window treatments are added.
"Susan – What a pleasure it was to finally meet you. The person behind the miracle makeover. The seller has been praising you since I first spoke to him over the phone and hasn't stopped yet! When you look at the new photos, you'll see that it hardly looks like the same house."

– Joe M's Realtor
Click to read how AtWell Staged Home is invited to decorate this client's next home after such a successful experience.
Like this post? Share it!