Decorating client's testimonial foretells of a quick sale. But no one – not even the home stager or agent – anticipated a sale this quick and this profitable.
Gary purchased his downtown Stamford, CT, condo 2003. At first, he makes a few changes, such as buying new furniture, painting the den/office a popular red and updating a bathroom, but then progress slows.
Finally in 2009, Gary decides to get his home fixed up. He's not sure if he's staying or selling, but he knows it needs an update either way. In this testimonial, Gary explains his situation back in 2009 when we work together the first time. These are his goals and how we achieved them:
"It was time for a change and I had put off any major renovations for several years. So I asked Susan to advise me on making my home more livable and saleable after learning I might relocate for work. Susan gave me the best options to sell or dwell – without spending a lot.
We agreed to paint every room and update the baths and fireplace. Susan explained the choices – due to my color blindness – and chose a palette that was neutral but not bland. She also helped find the best way to organize each room while displaying my favorite personal items.
I'm really proud of my home and look forward to showing it off to friends and family. It doesn't just look good, it feels good. More inviting, modern, bigger. I have no doubt, that when I do finally have to sell, buyers will feel the same.
The majority of this transformation took place while I was away on business. I put my trust in Susan and she successfully combined my likes and desires while adding value."
– Gary Y., Stamford, CT, 2009
In January of this year, Gary decides to sell. Because the home has already been updated, staging is relatively quick work. A little shopping and a half-day to stage and the home is ready to show.
The condo lists on a Thursday afternoon, and within an hour, three showings are scheduled, two for Friday and one for Saturday. I suggest Gary take a mini-vacation to the city for the weekend. That advice seems to pay off because of the seven home buyers that view his condo between Friday and Sunday, all seven make offers.
The agent, the owner and I all know the home shows well, but I guess we underestimated how well. The unit does not have hardwood floors and the parking is not great, but even so, it sells for $25k (7%) over asking in a cash deal.
Here's what Gary said about this experience:
"Well, Susan, it all worked to plan. I was able to enjoy the upgrades while I was living here and they certainly helped when it came to selling. As you know, the home sold for much more than the asking price with seven interested buyers. Thanks for all your help decorating and staging my home. Couldn't have done it without you!"
– Gary Y., Stamford, CT, 2014
Oh, and by the way, Gary invested $25k in the changes made in 2009 and 2010. So how fortuitous that this is the exact amount over asking that he received. I would consider that an incredible return on investment.
Remodeling and budget-friendly updates, combined with home staging, show this Stamford, CT, home seller the money! Enjoy these before-and-after images of this whole home transformation.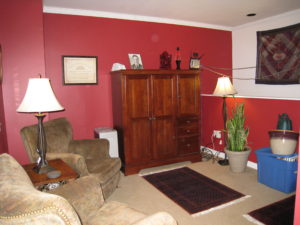 Entry/Office – Before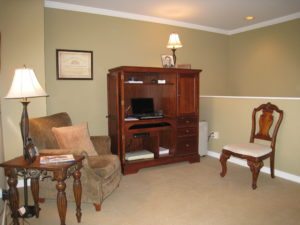 Entry/Office – After
No matter how you enter this home – through the garage or front door – this is the first room you see. Defining this little used and slightly awkward space as an office/study should appeal to most home buyers.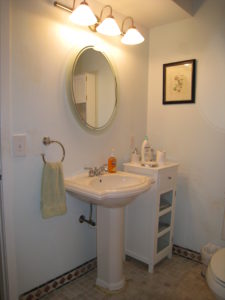 Main Bath – Before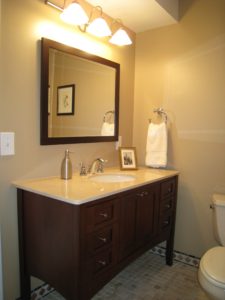 Main Bath – After
New 48″ vanity replaces a too small pedestal sink. Also added is a new mirror, paint and the beige toilet from the powder room. We keep the floor and lighting as these were relatively new updates done by the home owner.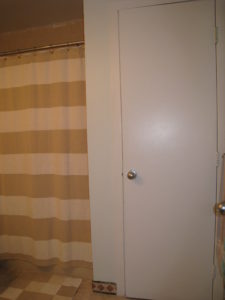 Main Bath – Before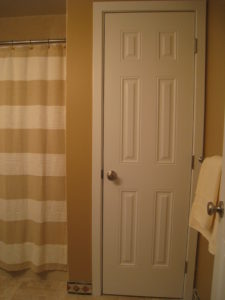 Main Bath – After
With very few doors in this open floor plan, all doors are updated from flat to paneled.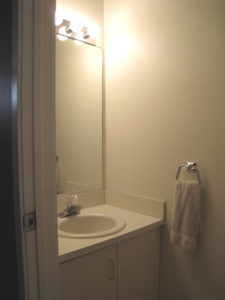 Powder Room – Before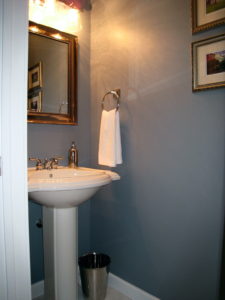 Powder Room – After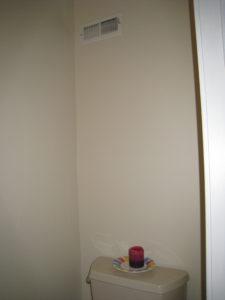 Powder Room – Before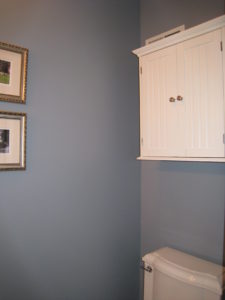 Powder Room – After
Do you recognize the pedestal sink and toilet in this powder room? You guessed it. Since these were way too small for the main bath, we swapped them! And the bisque colored toilet works perfectly in the main bath. Both baths are remodeled for just $1,800.00 in materials by creatively improving on the home owners upgrades.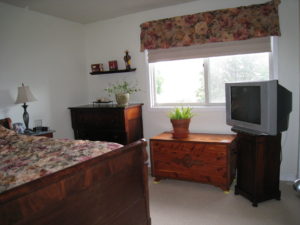 Guest Bedroom – Before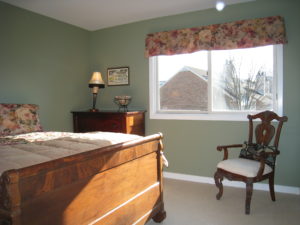 Guest Bedroom – After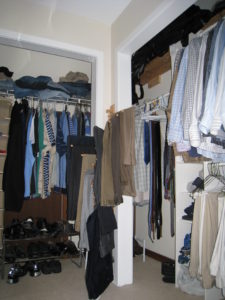 Master Closet – Before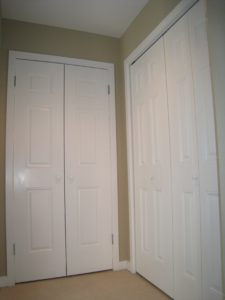 Master Closet – After
Doors are added as soon as the home is to be sold.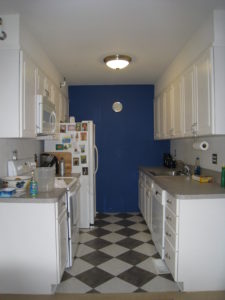 Kitchen – Before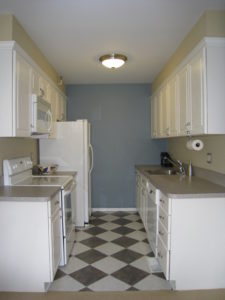 Kitchen – After
Molding above the cabinets and all new paint update this kitchen for very little expense. If Gary stayed longer, this space was next to be updated.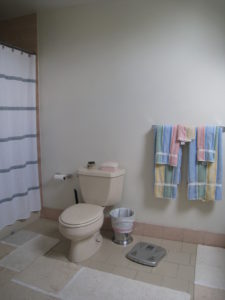 Master Bath – Before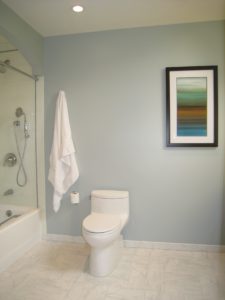 Master Bath – After
Master Bath – Before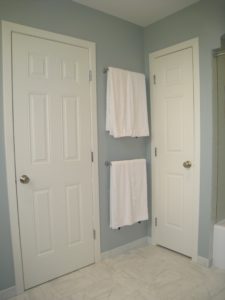 Master Bath – After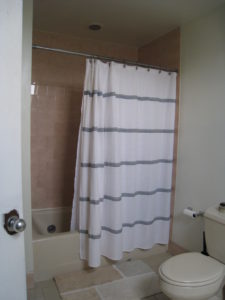 Master Bath – Before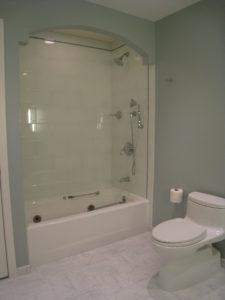 Master Bath – After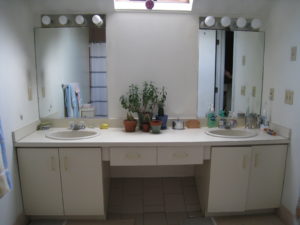 Master Bath – Before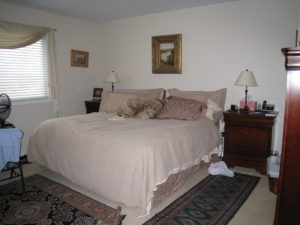 Master Bedroom – Before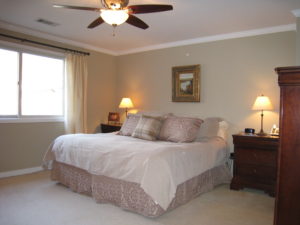 Master Bedroom – After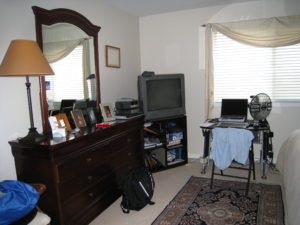 Master Bedroom – Before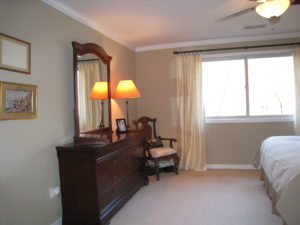 Master Bedroom – After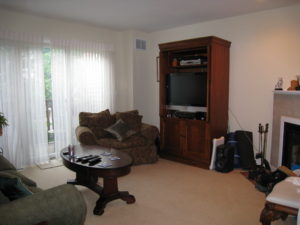 Living Room – Before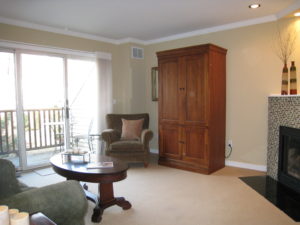 Living Room – After
Click here to get a closer look at this fireplace makeover.
Finally, click here to view and learn more about this home's dining room makeover.