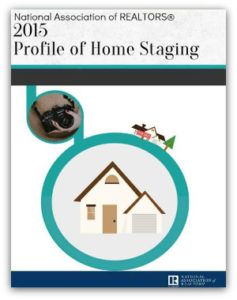 The National Association of Realtors (NAR) has released its first ever home staging statistics report.
NAR surveyed real estate agents on the impact of home staging. Below are just a few of the key findings in the 2015 report:
81 percent of agents believe it is easier for buyers to visualize a staged property as a future home.
Over 95 percent of buyer's agents report staging has some effect on buyers.
$675 is the median dollar value to stage a home.
12% of real estate agents believe that staging "increases the dollar value of the home" at least 11%-20%.
Only 19 percent say that home staging has no impact on the dollar value buyers are willing to pay for a home.
Almost a one-third (28%) of buyers are more willing to "overlook property faults" when the home is staged.
Only 10 percent of real estate agents say home staging "has no impact" on the dollar value of the home.