Interior decorating, or designing to dwell, is decorating to appeal to your likes and tastes.
Here are just a few ways AtWell Staged Home can help you create a warm and inviting home reflecting your personality:
Paint color recommendations
Planning projects, repairs, and upgrades
Recommending and coordinating with contractors
Window treatment recommendations and selection
Furniture arrangement, placement, and accessorizing
Interior redesign, organizing, and new home decorating
Shopping for accessories, furniture, or any other home decor
For more information and samples of our interior decorating, redesign, and organizing projects, visit
Designing to Dwell
 under our "Services" link.
Guest bathroom before…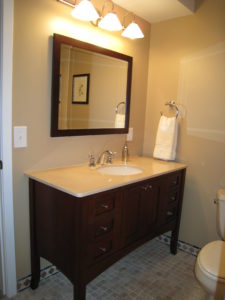 Guest bathroom after interior decorating by AtWell Staged Home.