Any real estate agent will tell you that kitchens and bathrooms sell houses. Don't miss the opportunity to impress your buyers. Make staging your kitchen and bathroom a top priority.
Part 2 of 2: Bathroom Staging Tips
Hidden Gem
Staging played a key role in selling this home in less than 3 months. Apply these tips when transforming your bathroom. Transcend functionality. Think model home, fine hotel, or spa for your bathroom makeover.
Before staging, the bathroom appeared unsanitary. After staging – a completely different story. A deep cleaning, wallpaper removal and a buttery-yellow paint transformed this bathroom into an entirely new space.
Additionally, a rusty medicine cabinet was replaced with a custom mirror and an inexpensive white cabinet over the toilet. The vanity fixture was replaced and clutter removed. To expand and brighten this small bath, extra lighting and a translucent shower curtain were added.
The floor's grout had gone from grey to brown. Cleaning with oxygenated bleach returned its original color.
This project proved, once again, that clean sells. It was the major focus for this project as it must be for all staging projects.
As the only full bath in a four-bedroom home, the majority of the budget was focused here. The total cost for these bathroom improvements was just $550 for this $550,000 home. Worth every penny to bring the shine back to this hidden gem.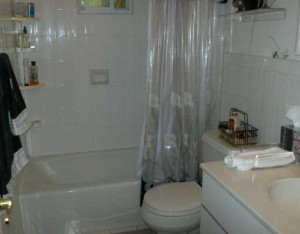 Bathroom Before Staging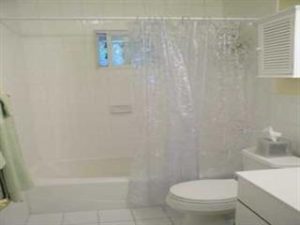 Bathroom After Staging
If you missed Part 1 – Kitchen Staging Tips – click here.