An inefficient and awkward laundry room gains maximum storage and function on a shoestring budget.
In Heritage Hills not many homeowners have the luxury of a dedicated laundry room. Even for those fortunate enough to have the requisite space, there is no guarantee that the area has been designed thoughtfully and efficiently.
Two design options are offered to satisfy my client's desire for better storage and function:
Option 1
Keep the washer/dryer stacked, but add built-in shelves on the left side.
or
Option 2
Unstack the washer/dryer unit and build a large counter space for sorting/folding clothes and minor ironing.
The homeowner chooses option 2, the extra counter space.
Additionally, we add hidden storage on the left while open shelving on the right allows us to accommodate hoses, outlets and shut-off valves without sacrificing storage space. Finally, the walls are repainted in a deep neutral color.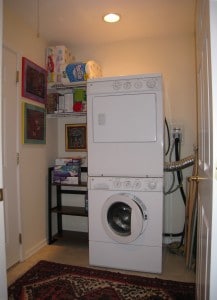 Laundry Room Makeover Before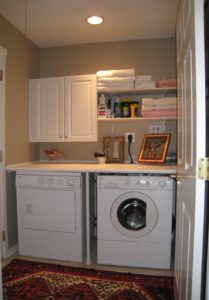 Laundry Room Makeover After
Before, it barely seems as though there is enough room for storage, let alone a work space. After, the homeowner has plenty of space to sort laundry and use a small table iron. As a bonus, the space even looks bigger and brighter.
In case you missed it, check out this same client's master bath transformation to read what this homeowner had to say about working with AtWell Staged Home.
If you need a little or a lot of help with your remodeling project, please contact AtWell Staged Home at 914.525.0454 for more information or to schedule an appointment.