Better Homes & Gardens Rand Realty in Somers has the most economical move possible when AtWell Staged Home helps them redesign and relocate their office three doors down.
Richard Mishkin, Manager of Rand Realty in Somers, NY, and I met when he was the manager of the Somers' Coldwell Banker.
Richard's words during a presentation I made to his team will always stick in my mind. He told them that, "There isn't a home out there that couldn't benefit from a two-hour home staging consultation." I couldn't have said it better myself.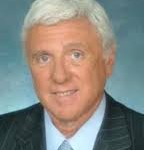 More recently I heard him talking to his regional manager about my work. Richard told him that "I can always see the difference after Susan has staged one of our listings." He expanded upon that thought recently by adding, "It's almost impossible to look at your own house through the eyes of a potential buyer. Most people wouldn't consider moving their favorite chair or taking down a sentimental photo or knickknack. Susan's sense of design, spatial relationships, color, and texture plus her experience staging homes to sell sets her apart from decorators and agents who may be pretty good at staging but are limited by their relationship to their client."
The first home I staged for Richard's Coldwell Banker team was a beautiful center-hall colonial. Here's what that home owner had to say about the experience:
"My house was on the market for 3 months when my agents recommended staging and brought in Susan from AtWell Staged Home.
For three hours we rearranged furniture, removed window treatments and re-hung artwork. Susan suggested a few more changes – additional decluttering, grout cleaning, and wallpaper removal – which I promptly took care of over the next week.
After taking all of Susan's advice, the first person that came in after the staging did a "WOW" and bought the house. The whole presentation worked like a charm because the buyers fell in love with the house immediately.
The staging experience was more than pleasant. Everyone was cheerful, and I could not resist Susan's positive presentation of ideas. If I were to do it all again, I would call Susan first."
– Norm F., Granite Springs, NY
As they say in the movies, this was the beginning of a beautiful relationship…
Earlier this year, Rand and Prudential Douglas Elliman agreed to trade office locations. Rand Realty moved out of Scarsdale to expand their Somers location, while Douglas Elliman moved out of Somers to expand into the Scarsdale market.
To accommodate the expansion, Rand moved into the larger Douglas Elliman digs just three doors down.
Richard wanted to move quickly, efficiently, and at minimal expense. Knowing that I like a creative challenge, he called me in to help.
The following week, while the office was still vacant, we met with EVP Nick Germak. At this meeting we determined furniture and art placement and settled on all recommended repairs.
Having worked in many offices – from large corporations, universities and even a renovated one-car garage in a residential neighborhood – I was not only focused on the visitors' first impressions but the experience of the agents who would be spending time here. We were all on the same page with these goals, so deciding the rest made for relatively quick work.
What I liked – and found unique about their original office – was that it was designed like a living room, a home within an office. We wanted to keep that feeling, even if the new office footprint was a little awkward in comparison.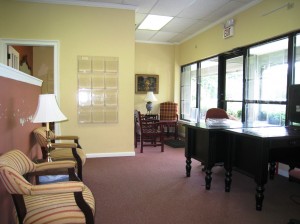 Before
A very traditional waiting room, like you would find in most offices.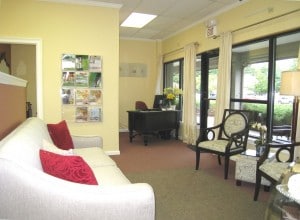 After
The new entry is an unusual, but inviting presentation, for home buyers and sellers, as visitors feel like they are coming into a home, not to an office, when they enter.
After Richard had the recommended repairs made and contents moved, I returned for two more hours to finalize furniture, art, and accessory placement. It all worked to plan, and I hear that the resident agents are quite pleased with the results. (At least that's what they tell me when I visit.)
Here's another image of my favorite part of the office – the entry before and after the transformation.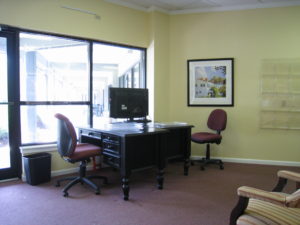 Before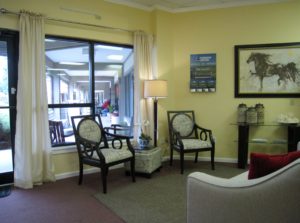 After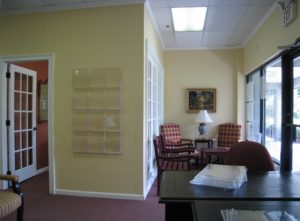 Before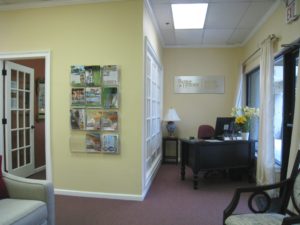 After
Waiting area becomes the reception area.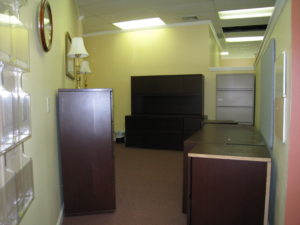 Before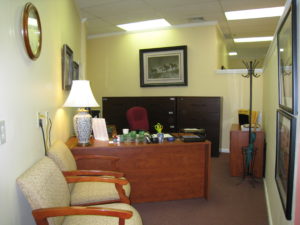 After
Oddly shaped alcove is transformed into an area for the office administrator. Desk is placed on left wall to allow visibility to clients entering the office.