2-hour home staging consultation transforms small Heritage Hills Somers NY condo. Home looks good enough to sell and rents on first listing day.
After inheriting a condo, the owners aren't sure if they should rent or sell. Their agent advises them to stage – regardless. She also advises them to leave all remaining furnishings to save on the cost of staging.
Stager, agent, and assistant go to work so quickly, "before" pictures are not taken. Below are the complete set of listing pictures, along with written detail of how each room is changed using only what remains in the home.
Home seller is shocked – and thrilled – at speed and results of same day transformation. Total cost of staging? Zero dollars.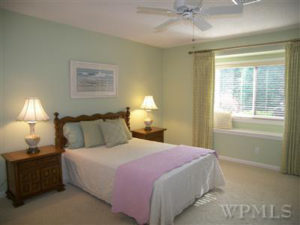 Master Bedroom – After Home Staging
The bedroom has only a bed, window treatments, matching dressers & lamps, white quilt and bed pillows – but no pillow cases.
Dated sheers are removed and pillows from den are added to window seat to draw attention to this special feature.
Pink quilt and 3 green throw pillows are borrowed from den.
Green sheet from den is wrapped around bed pillows to create a make-shift coordinating pillow case.
Art from living room works perfectly over the bed.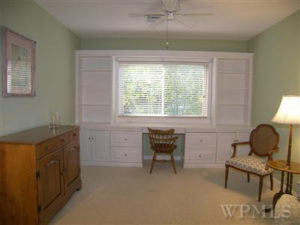 Den – After Home Staging
Den is completely made over. Only the built-in remains from the original configuration:
Twin bed is removed and replaced with two chairs and a floor lamp.
Top of hutch is removed, and base – previously in the living area – is added to .this space.
Freestanding corner desk is removed and used in kitchen as table.
Vase and art, found in garage, finish off this space.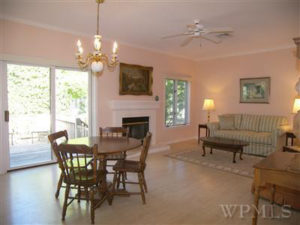 Living/Dining Area – After Home Staging
Three areas are created in this open living space:
Living area to the right is created with a chair, sofa, rug, coffee table, side tables, and lamps.
Dining area to the left.
A desk in between these spaces creates a comfortable work area.
Only essential pieces are kept.
Dated floral window treatments are removed, changing the entire look and feel of the room.
Art over couch is found in garage to replace piece moved to the bedroom.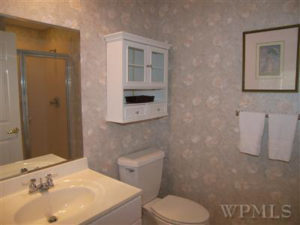 Bathroom – After Home Staging
No time to remove wallpaper, instead we do all we can by:
Decluttering.
Keeping the fresh white towels.
Adding art (again, found in the garage).
Deck – After Home Staging
Oversized deck is arranged to show both living and dining areas. Even with only 4 chairs, buyers can see the potential this large outdoor living area has to offer.