Buyers can be choosy when selecting a home in Heritage Hills Somers NY, a  2,700-unit condo community. To stand out and sell quickly, agent and seller choose home staging.
Staging leads to over 40 showings in 3 months for this rare 2-bedroom, 1,600-square-foot Berkshire model.
As you can see from this listing picture, the home garnered attention from the first day, with its open floor plan, high ceilings, and grand staircase.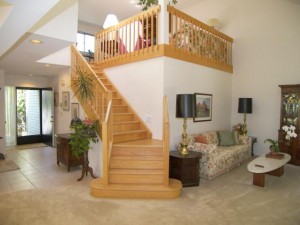 Staging makes this home a standout – online and in person – and gives the home seller an opportunity to begin the arduous task of downsizing.
Enjoy more listing pictures here. Click here to learn how this home staging project leads to a home decorating project for the referring agent.
---
Like this post? Share it! 
Never miss a post. Join our mailing list and receive free monthly updates.