Are you showcasing the unique architectural elements in your home? Learn how staging built-ins will add equity to your home when selling.
A 70s modern condo, like many others in the complex, offered a unique built-in bookcase. Barely noticeable in this vacant home but brought to the forefront with a small budget and a little creativity.
Here are the five simple steps for taking an architectural feature from drab to fab. Use this budget conscious example to make the most out of the unique architectural features in your home.
Pick a purpose. The built-in was right off the dining room. Staging it as a hutch saved the expense of renting an additional piece of furniture.
Find a style. Will this space be formal or casual? Will it be used for function or form? A more elegant theme was chosen in this example to coordinate with the adjacent dining area.
Establish a theme and repeat it. Colors, shapes, objects, anything goes. In this space the colors from a large china platter and matching bowl established the theme. Maroon and silver were then repeated to unify the grouping of chargers, potpourri filled vases, candles, and sculptural book ends.
Keep it simple. If combining books and accessories follow the rule of thirds: 1/3 books, 1/3 accessories, 1/3 open space. Remember that less is more in staging built-ins.
Be kind to your budget. If you are buying new items, you don't need to spend a lot. Look for items that just look expensive. All the items below were purchased from local home discount, craft, and thrift stores for only $65.
This is just one idea for how home buyers might use this space. The options for showing off a home's built in assets are only limited by your creativity, resources, time and budget.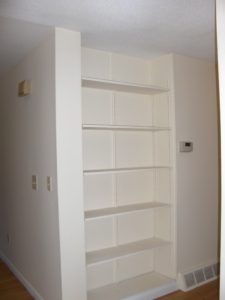 After
Here are some additional examples of occupied home staging built-ins. The transformations below all cost $0.
(Click photos to enlarge.)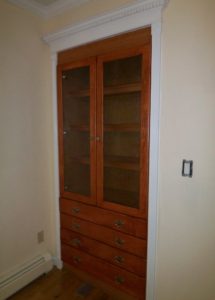 Before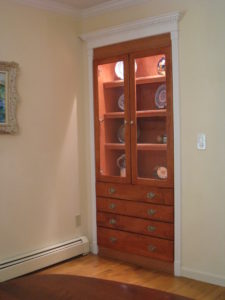 After
Don't think you have anything with which to stage a built-in? Just check the kitchen cupboards like we did here. Ceramic plates, bowls, and vases, with a similar style and color are found. Click here to see all the before-and-afters of this Katonah, NY home which sells in just a day.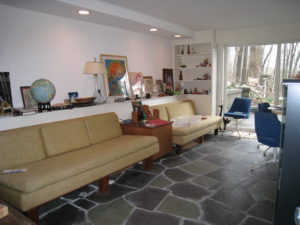 Before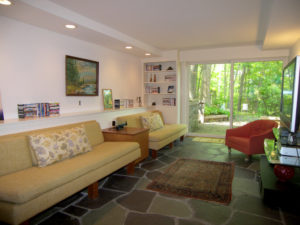 After
Not only are the bookcases built-in, so are the sofas. New pillows make the sofas feel fresh. Using the owners extensive DVD collection, combined with a few of his accessories, reinforces this room as the new "theater." Click here to read and see all the transformations that sell this Katonah, NY home quickly.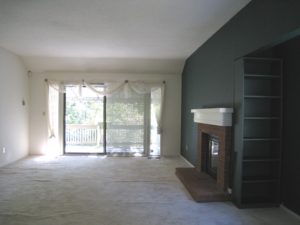 Before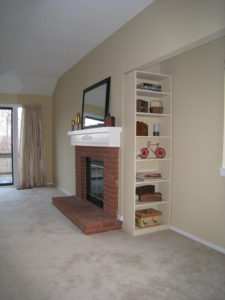 After
No, that isn't dark green paint. Worse. It's wallpaper. All is stripped from the walls and built-in bookcase, carpet is stretched, and window treatments updated. Final step is to stage the built-in bookcase using just what the home owner has. Click here to see more transformations of this Heritage Hills income property.