…where levity gives rise to serious advice on the power of real estate listing photos.
Today's home buyer starts his/her search on the Internet.  When selling, make sure that pictures of your home flatter, not fail.
For fun – and awareness – we'll periodically showcase some of the worst real estate listing photos found on the Web.  In addition, I will add my (slightly sarcastic) impressions, thoughts, and (serious) fixes for these (regretful) listing pictures.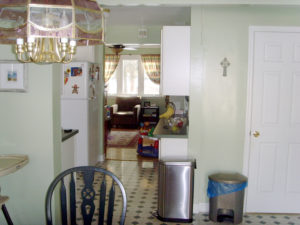 First Impressions
I must admit to laughing when I initially saw this image – the first interior picture in a series of 20. But I learned something at the same time. Until I saw this, I had no idea that photographing garbage is a new real estate marketing trend.
And what a relief for potential buyers to learn that the sellers recycle. I know that this fact alone will encourage buyers to view this house in person.
What's Wrong with This Picture?
Where do we begin? If you can see past all the distractions, you notice the decorative cross and start to wonder if there might not be a more prestigious place for this symbol?
A close-up of the dated light fixture is also a nice touch. And finally, we can see what looks like a living room in the background, or maybe it's just a place to store children's toys?
In any case, we're really not sure what we're looking at or even why, since so much of what we see is a distraction.
The Fix
There are two options:
1. Since there are so many things wrong with this picture, the quickest fix is to just eliminate it from the set of 20.
Or
2. If the home were properly prepared for showing – or staged – a similar shot could probably be successful because the purpose of a shot like this is to show the flow and openness of this tiny home. Remove the clutter, garbage, high chair, children's toys, refrigerator magnets, and hold the chandelier out of view – then take the picture.
What do you think?
Am I being too critical or not critical enough? Add your captions and comments by leaving a reply below.
If you come across an awful but fun listing picture, please email it to me for a future installment of Caught on Camera.  (All submissions will remain anonymous to protect the innocent.)