Home staging is a puzzle, but Bonnie's home has all the pieces to produce a speedy sale.
Bonnie needs to sell quickly and move even faster. As a savvy home seller, she seeks the advice of a stager to make her home stand out from other properties for sale in her community of Heritage Hills in Somers, NY.
Agent Deanna LaBarbara of Coldwell Banker in Somers, NY, recommends Susan Atwell of AtWell Staged Home to help Bonnie achieve her goals.
Bonnie's 2-bedroom, 1,500 square-foot condo is up-to-date and freshly painted, but she's looking for assistance with placing art, accessorizing, arranging furniture, and deciding which things should stay or go. Making these decisions quickly and implementing a plan are major reasons for recruiting professional assistance.
With no basement or storage unit available, we decide to neatly fill the garage with the excess items.
My favorite memory of the home staging sessions is moving the sleeper-sofa from the guest bedroom to the living room. We knew it would be possible even if it appears that the house is built around this heavy sofa. If the sofa had made it into the bedroom, there must be a way to take it out.
Bonnie suggests putting it on end, and with lots of wiggling, sweat and furniture slides, we pop it out the bedroom door and slide it into the living room. (This is why it's important to wear machine-washable clothing when staging. You never know what trouble you might get into.)
I love Bonnie's can-do attitude and determination, the two most important ingredients—more than even money—when preparing a home for sale. Read in Bonnie's words how all this effort is rewarded:
"Thanks for all your help staging my condo. I want you to be aware that I received more than $25,000 over the Realtors' recommended listing price and $11,000 over the actual listing price on my Condo and had multiple cash offers within 7 days of the listing (within $1K of each other).

Your help made the difference. You have a real talent!

I have two friends to whom I am sending your newsletter who are interested in your services. I may request some professional assistance with arrangements once I relocate—so store those images in your head!"

– Bonnie S., Somers, NY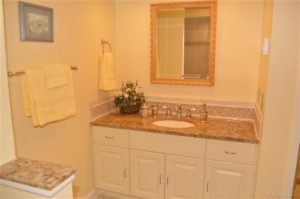 Master Bathroom – After Home Staging
Not much to do here but accentuate the clean and updated space with some fresh towels, art, and accessories.
At the broker open house, agents think the home always looked this way. (The perfect feedback because a home should never scream, I'm staged!)
The agents ask, What did you do? That's when I walk them to the garage showing them the neatly stacked mounds of furniture and storage containers. Next I describe how the rooms looked prior to staging.
Bonnie's agent is also thrilled with the results. Here's what Deanna had to say:
"The unit looked great!! You did an outstanding job and I know the home owner was so pleased with all your work. She was very excited and thrilled! We had showings immediately, which lead to a quick sale. All your hard work showed!

I will be referring you to some other clients soon!! I would also love for you to come in to one of our office meetings so I can promote all you do as my sincere thanks! Most of the agents know your work, but there are some new agents that would love to meet you."
Bonnie had beautiful furniture, art, and decorative items to begin with, making my job not only easier but great fun too.
As with most homes, the pieces required for a quick sale are there already. The secret is knowing where to put them. As a home stager, these are my favorite puzzles to solve.
Because we start staging at the first meeting, no before pictures are taken, but we hope you'll enjoy these listing pictures with descriptions of how the spaces looked prior.
Keep in mind that each room is staged using just what the home owner already has.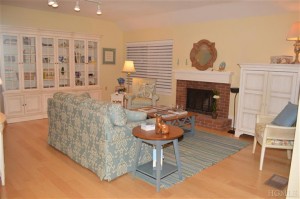 Living Room – After Home Staging
The infamous sleeper sofa moved from the back bedroom to the main living space replaces an oversized – and less comfortable looking – wicker sofa. Furniture that blocked access to the window, including a demi-lune sofa table, which is now just visible on the left wall, is removed. The comfy chair is placed to the left of the fireplace and just one additional chair – the mate to the one on the right – is moved to the dining area.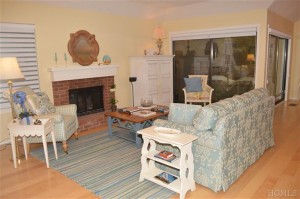 Living Room – After Home Staging
(From a different angle.)
Dining Room – After Home Staging
By removing one section from the wall unit, the room appears larger and allows us to add the chair from the living room. The secretary on the far left is now visible after being moved away from the entry to the kitchen. In its place is the smaller plant stand (shown on right). We also add – yes, add – a leaf to the dining table to keep it in scale with the room.