After almost 9 months on the market and no sale, these New Rochelle New York home sellers turn to home staging for a quick sale.
It is mid-May when Paul and I first speak. His home has been on the market exactly 7 months with no takers. He and his wife – a Realtor in Florida, where they have recently relocated – both understand the challenges of selling a home whose backyard abuts the Hutchinson River Parkway.
But the parkway was there when they purchased this 4-bed, 2-bath, 1,850 square-foot Tudor-style home years earlier, and it didn't deter them. So why are today's buyers not biting?
It's all about pros and cons. Its simple math that when the cons outweigh the pros, home buyers walk.
So what can you do? Easy. Tip the scales in your home's favor. Eliminate as many objections as you can while playing up your home's best and most desirable features. Or, in a word, stage!
Here are some of this home's pros:
Great family neighborhood and schools.
Walk to town and temple.
Close to highways, trains, and commuting to New York City.
Great starter home for a growing family.
Updated kitchen, finished basement, sunroom, fireplace, and flat backyard.
And some of its cons:
Original baths from 1929. (Although some might find this charming.)
Carpeting throughout hiding the hardwood floors. (Not so charming.)
Tons of "stuff" filling the basement and sunroom.
Not all rooms – especially the bedrooms and bonus spaces – are clearly defined.
Did I mention the highway in the backyard?
It is Paul and Robin's agent who suggests staging with AtWell Staged Home. After an initial consultation we come up with a plan to tackle those pesky cons. The plan includes a lot of packing and purging, minor painting, cleaning, staging and clearly defining each room, and the biggest investment, refinishing all of the hardwood floors.
When complete, their investment in staging allows them to re-list the house for $10,000 more than they had been asking. Even with the price increase Paul and Robin accept an offer in just 45 days. Proof, once again, that staging makes a difference.
The relief of finally selling is displayed here when Paul posts this great picture to our Facebook page. Here he is, taking a break from rubbish removal, as they empty the house for the big move.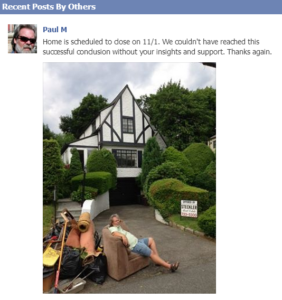 Paul also adds, "You did a superlative job in bringing out the best of the home." And that's the goal of home staging. Mission accomplished.
Sunroom Before Home Staging (Right Side)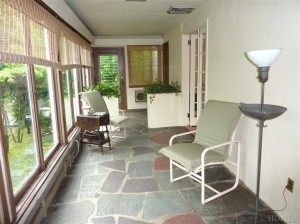 Sunroom After Home Staging (Right Side)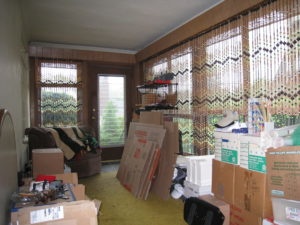 Sunroom Before Home Staging (Left Side)
With beads, paneling and gold carpeting, all this sunroom is missing is the lava lamp. But below this groovy façade is a room with great possibilities and appeal.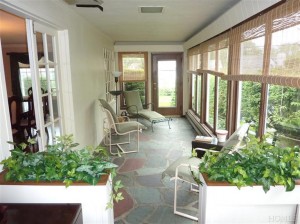 Sunroom After Home Staging (Left Side)
Using only what we find around the house, this room is staged with furniture borrowed from the patio. The shades were hiding below the beads and a cream colored paint updates the paneling. New silk ivy is added to the planters and slate floor is no longer hidden by carpeting.
Living Room – Original Listing Picture – Before Home Staging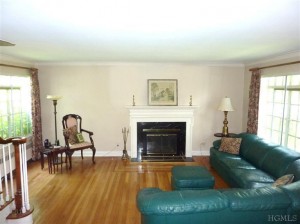 Living Room – New Listing Picture – After Home Staging
Now when someone walks into this house they are not distracted by large electronics and dull carpeting. They are drawn to the newly refinished hardwood floors, fireplace, and large picture windows.
Rental furniture is considered for this space, being the first room you see upon entering the home, but instead, refinishing the floors takes precedence. A wise choice.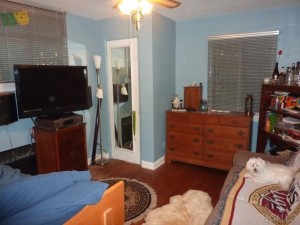 Boy's Bedroom – Before Home Staging
Original listing picture shows too much furniture in this small boy's bedroom.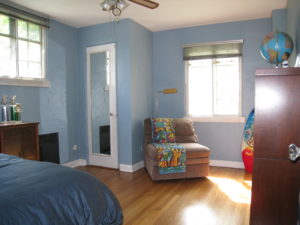 Boy's Bedroom – After Home Staging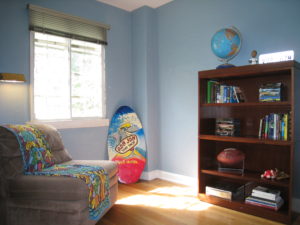 Close-up of how to set the stage for home buyers. This bedroom is themed for an active and sports loving boy. Without spending a dime, we use just what is found in the home to appeal to all the buyers from mom and dad to son and daughter.