AtWell Staged Home ensures that home buyers will remember your home for its features not its flaws.
Did you ever notice that house hunters often refer back to a home by its most prominent characteristic? And how often is that characteristic something less than desirable, like an awful pet odor, that 70s kitchen, or the dirty bathroom? Wouldn't it be nice if they left remembering the good and not the bad?
AtWell Staged Home directs the home buyer's eye to a home's best features. By accentuating the positives and playing down the negatives, we make your home memorable to home buyers, for all the right reasons.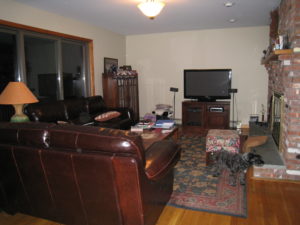 Family Room Before Home Staging
Before home staging home buyers will remember this awkward space as the room with the sofa in front of the sliding glass door. They won't notice all the light, the over-sized deck, large lawn or even the fireplace, and they certainly won't be able to picture their furniture here. After struggling to picture their belongings in this space, they will give up and be left only with the feeling that this room is difficult to decorate.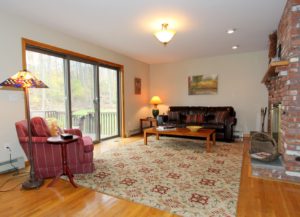 Family Room After Home Staging
After home staging home buyers don't notice the awkward placement of the sliding glass doors. They leave knowing that their furniture can also be arranged comfortably in this space. (And yes, the TV is still in the room and visible from the sofa.)
Future owners may wish to convert the sliding glass doors to a large window, but for quickly staging a home to sell, furniture arrangement is the least expensive option and the best return on investment.