Vacant Home Staging sells this Scarsdale, NY, co-op not just once but three times. Let us explain…
Technically, these poor home owners sold this home three times! Yes, the co-op board turns down the first two highly qualified candidates before finally accepting a third. After staging and each subsequent refusal by the board, this home "sells" again within days.
Imagine how long it would have taken if it had not been staged? You can see from the photos that vacant homes look small, feel cold, and lack perspective, not to mention how poorly they show online. At 750 square-feet, it's even more important to show this home furnished.
Prior to staging, home buyers only notice the floors in this 750 sq/ft Scarsdale, NY, co-op. After staging, buyers are floored by this home's good looks and personality brought out by easy upgrades and detailed decorating.
This home is stylized and designed with a potential commuter in mind. It's a quick walk to the train and commute to New York City from here. Being a ground level unit, we feel our target buyer will be a single male, or young couple.
View these before-and-after photos of this vacant one-bedroom, one-bath co-op located at 250 Garth Road in Scarsdale, NY, staged by AtWell Staged Home.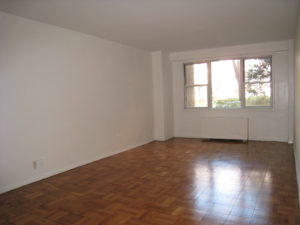 Living Area – Before Home Staging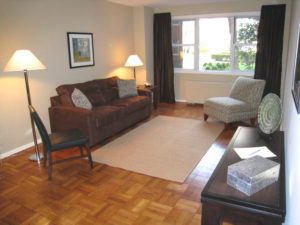 Living Area – After Home Staging
The best feature in this room is the large window. We add inexpensive faux raw silk chocolate brown window treatments to draw the eye to the window upon entering this tiny home. Fresh bold, but neutral paint is also added to help this unit stand out from the competition.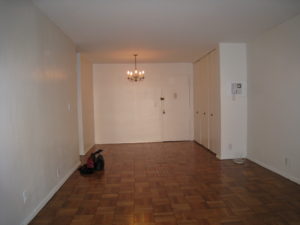 Living Area – Before Home Staging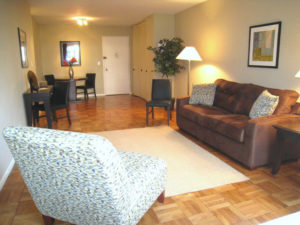 Living Area – After Home Staging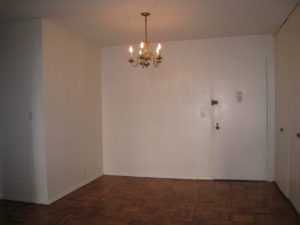 Entry – Before Home Staging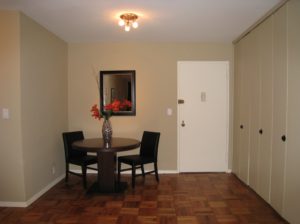 Entry – After Home Staging
The home owner complained about always walking into the chandelier. Now, seven years later and after he has moved out, we flush mount a fixture. This area can be used for dining, study, or an entry, making this new light fixture much more practical for the new owners.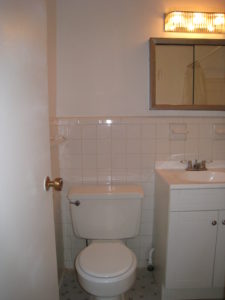 Bath – Before Home Staging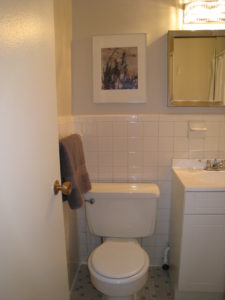 Bath – After Home Staging
Gray paint is added to coordinate with the floor tile. Art, new shower curtain, fresh towels, and a good cleaning update this bathroom at minimal expense.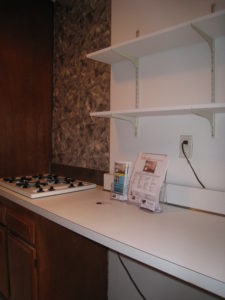 Kitchen – Before Home Staging

Kitchen – After Home Staging
Contact paper is covered with a mirror and silver frame. The room visually expands and feels as though a pass-through has been added to the living room. Modern glass shelves are added as well as an art piece to cover the electrical box cover.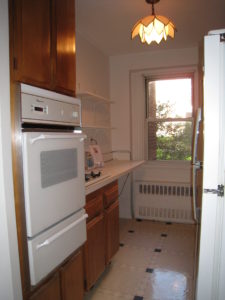 Kitchen – Before Home Staging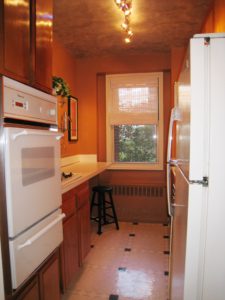 Kitchen – After Home Staging
Tulip shaped light fixture is replaced with modern track lighting. Ceiling is faux finished to resemble metal. Owners bar stool is painted black to match the floor accent and a white bamboo roman shade warms up the window. Molding is added to the top of the cabinets and the bold paint color is chosen to match the wood finish.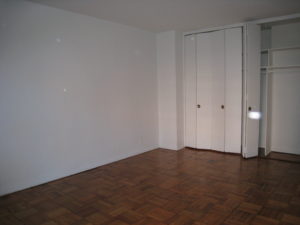 Master Bedroom – Before Home Staging
Master Bedroom – After Home Staging