After 100 days on the market, these Rye, NY, home owners warm to the idea of home staging and sell their $2M home in just 30 days.
There is nothing wrong with this house. Certainly nothing that should turn off potential home buyers. This home is meticulously cared for, clean and clutter free. Everything home buyers respond well to. But still, the feedback is less than desirable and not positive enough to generate an offer.
Before it's too late in the selling cycle, and before the listing becomes stale, home seller, Theresa, Googles "home stagers" and finds AtWell Staged Home. On the phone we connect immediately, and two days later meet in person for the initial consultation.
Perhaps this home is a little too neat, too clean, containing too little "stuff"? A three-hour consultation leads to the following goals:
Warm each space with soft accessories such as plants, pillows and art.
Add some pizzazz to each room.
Refinish the dull-gray hardwoods on the main floor to match the more traditional golden palette of the upstairs.
As you might expect, it's rarely just one thing that needs to be changed, but instead a series of minor changes and updates throughout a home that make the sale. The devil is in the details yet again.
While Theresa follows the plan to a tee, we consult a few more times, in person, on the phone, and by email. Concerned with the size of the task before her, I ask Theresa if she feels overwhelmed or would like additional help. She confides that even though it is a lot of work, she is really enjoying the process.
AtWell Staged Home's guidance and suggestions, combined with Theresa's great taste and do-it-now determination, quickly pull this 4,200 square-foot home together for a relatively small investment. The home returns to the market 100 days after its original listing with new photos and new life. Within 30 days, these home sellers are in contract.
Here's what Theresa had to say after the sale…
Susan,

Thank you again for all your guidance with our house. The closing was last week. The house is sold. I cannot thank you enough. I am certain it would still be on the market were it not for your help with staging. (In fact, many of the homes that were on the market when we were selling are still for sale!!) So many thanks again!!"

– Theresa M., Rye, NY
Once you cross real estate's $1M threshold, buyers expect more. Not just "even more." They expect a lot! Buyers want to be wowed when they walk through the door and all through the house.
So when these home owners weren't getting offers on their $2M home, they didn't waste any time. Instead of lowering the price and starting a vicious cycle of selling insanity, they stuck to the price, rolled up their sleeves, and got to work on staging their home to sell.
Enjoy my two favorite transformations that helped warm the hearts of home buyers.
(Click images to enlarge.)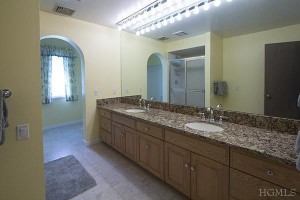 Bathroom – Before Home Staging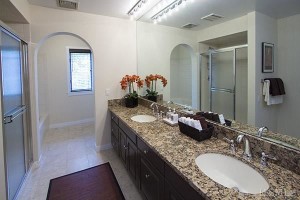 Bathroom – After Home Staging
Conflicting yellow walls are painted over with a coordinating color. The large new cabinet is painted a bold chocolate brown inspired by the dark fleck in the granite countertops and marble floors. Window treatments, art and accessories are also added for warmth, drama, and color.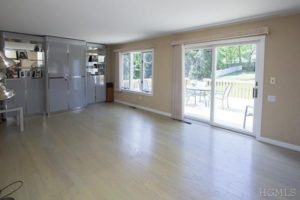 Family Room – Before Home Staging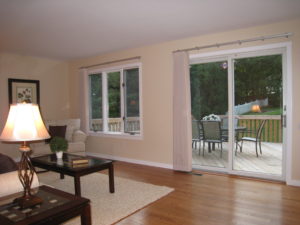 Family Room – After Home Staging (same angle as before)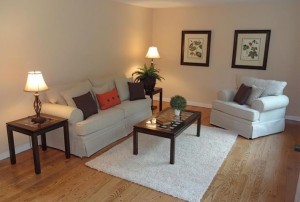 Family Room – After Home Staging (from a better angle)
Wall unit is removed and replaced with owners' two large art pieces. Inexpensive furniture is purchased to define and fill this vacant space. And hardwood floors are refinished from blonde to brown.