A shared vision of a neat, organized, and staged home leads to a sale within 48 hours of listing.
Jayme calls herself a "home staging believer," but some close to her are not. After huge efforts on her part to organize, finish unfinished projects, and decorate to sell, she is rewarded with two quick offers both in the first listing week.
The bills for the electric heat are killing her. And it no longer makes sense to have a home this large for just her and her son.
When I arrive, Jayme has closed off the upstairs (which includes two bedrooms and a full bath), along with a large bonus room on the main level. She confines her living to the first floor, where there are two bedrooms, a living room, kitchen/dining room, and full bath. All generous spaces and really everything she needs to be comfortable. The bad part? All the "stuff" from the closed-off spaces is now consolidated into the new living space, making it cluttered and difficult to manage.
Before our consultation, Jayme plans to put excess items in storage. I politely, but firmly, disagree. I've got a better idea that will save her hundreds of dollars, while allowing her to stage the home at little to no expense.
Staging isn't just about making things look pretty, it's also about making things practical while keeping costs in mind. I'm concerned that if the electric bill is high, the storage bills could be even higher.
There is more than enough room in the house to store all her possessions. It's just a matter of deciding what needs to be immediately accessible and what can be tucked away. The good part is that everything will remain in the house – pre-packed in storage containers – keeping access easy.
Jayme takes copious notes during our three-hour consultation. Her friends love the plan and, working with her, implement every suggestion over the next few weeks. When complete, Jayme invites me to return for a one-hour follow-up. I learn firsthand that the plan works! The empty spaces are staged, and no one is the wiser that these rooms are really just very attractive storage spaces.
If you are a potential buyer, could you tell which rooms are staged to sell and which are staged for storage?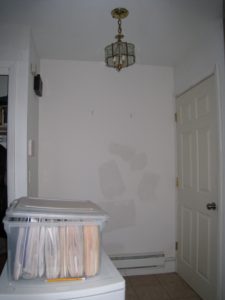 Entry – Before Home Staging
Entry – After Home Staging
New mirrors and a small table with a silk plant define the entry. A difficult space to stage, but why it's even more important to make it look easy to decorate.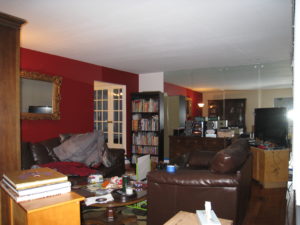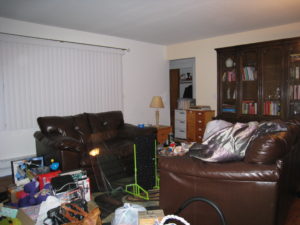 Living Room – Before Home Staging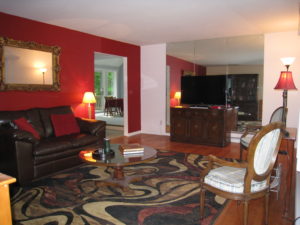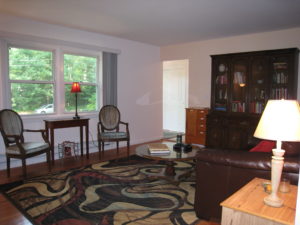 Living Room – After Home Staging
This is the first room potential home buyers will see. One of the four mirror panels is removed to create a balanced and intentional look while much of the big furniture is moved to the bonus room. Extra dining chairs, found in the basement, frame the feature window while completing the conversation area.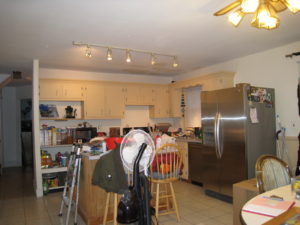 Kitchen/Dining Room – Before Home Staging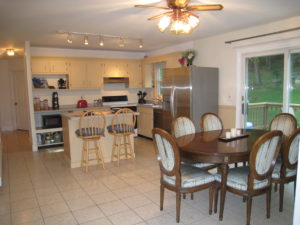 Kitchen/Dining Room – After Home Staging
Subtle changes are made here. Re-hanging art, organizing counters and removing clutter update this space for $0.
Bonus Room – Before Home Staging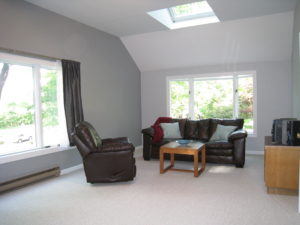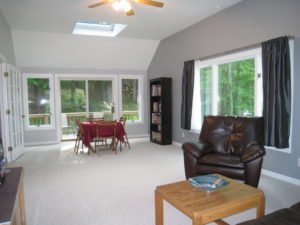 Bonus Room – After Home Staging
A wonderful space but expensive to heat, this large room is closed off and empty. Staged with items borrowed from the overstuffed living room and back bedroom, the only items purchased are a few throw pillows and a decorative bowl. Creating two clearly defined areas gives buyers an idea of the size and potential function for this space.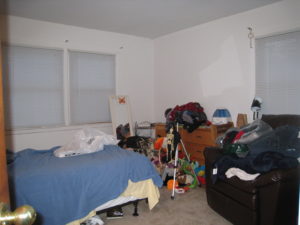 Lower Bedroom – Before Home Staging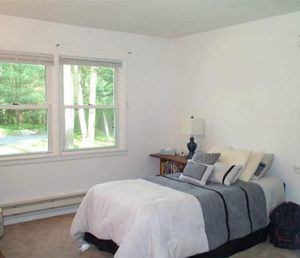 Lower Bedroom – After Home Staging
Decluttering, new bedding, and furniture arrangement make this an appealing child or guest room.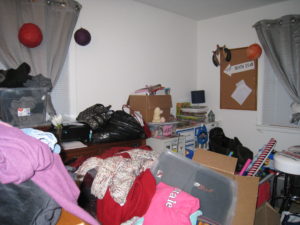 Bedroom/Office/Playroom – Before Home Staging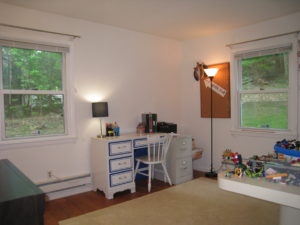 Bedroom/Office/Playroom – Before Home Staging
This room is packed with toys, dressers, desks, clothes, and many items that had previously been upstairs. Jayme works with her friends to return most items to the upstairs bedrooms, where they are desperately needed for staging.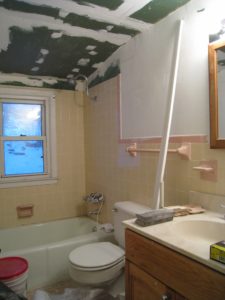 Upstairs Bathroom – Before Home Staging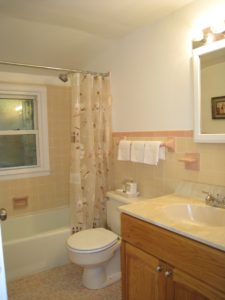 Upstairs Bathroom – After Home Staging
The floor and wall tile need patching. A handy friend will do the work for free, but how do we find the matching tiles without it looking like a patch job, or worse, having to buy all new tile? We find the needed tiles hiding below and behind the vanity, finishing the bathroom without too much trouble or expense.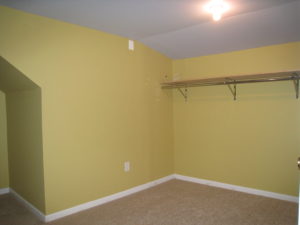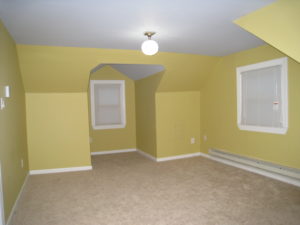 Upstairs Bedroom – Before Home Staging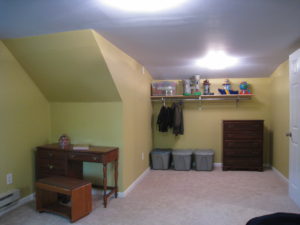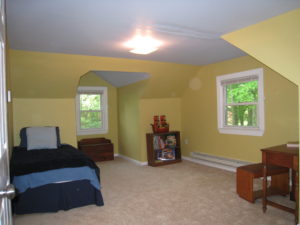 Upstairs Bedroom – After Home Staging
Remember all the toys and excess furniture in the lower bedroom/office/playroom? Well, much of that is relocated here to create an appealing child's bedroom. An air mattress – hiding yet more storage bins – finishes the look.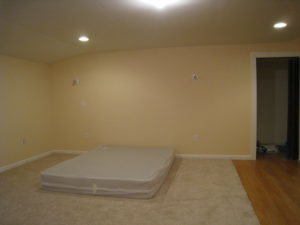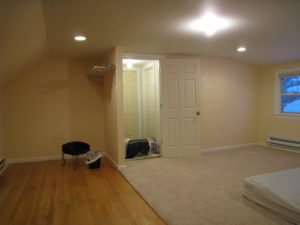 Master Bedroom – Before Home Staging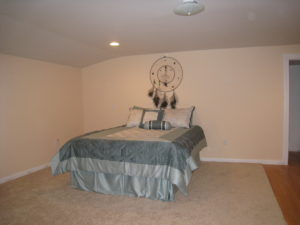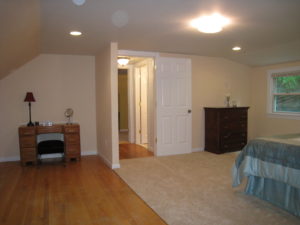 Master Bedroom – After Home Staging
The one item found in this room – the box spring – is supported by plastic storage bins filled with items from the overflow spaces. The large walk-in closet is also neatly organized with clothes both hanging and in storage. The dresser is brought up from the lower bedroom and new dressing table from the basement.
To summarize:
Offer made within 48 hours of listing this 1,900 square-foot, four-bedroom Cape Cod in Putnam Valley, NY.
Second offer made within one week of listing.
Sale completed to the first offer.
Customer completely satisfied and no longer just a home staging believer, but perhaps a new staging evangelist!
Here's what Jayme had to say about the experience:
I now know firsthand that you are an excellent captain of the 'Sale' boat (ooh see what I did there hahahaha). Closed on my house last week.

You made it happen!

It was a bumpy road, but we ultimately sold to the people who made their offer within the first 48 hours that the house was listed. (In between, of course, we drafted contracts for the second-offer buyers–made within one week of listing–because they were higher, but it turned out that they had a difficult time retrieving their funds from the OTHER house they were already in contract with…so the second-offer people didn't work out. But luckily, the first-offer people hadn't had time to go far, and they were still very interested, so it all worked out in the end).

Looking at the 'before' pictures – what a credit to your vision. Distanced from it now, it's even more impressive that you could see beyond the RIDICULOUS amount of stuff that was strewn about the house. Thank you, thank you, thank you!

Jayme S.
Putnam Valley, NY
Jayme is currently looking for a new home and also shared, "I really enjoy reading your newsletters, by the way. I find it helps during the house-hunting process as well to help me 'stay open' to the possibilities." Please visit Stage Every Listing Letter to sign up for our monthly e-newsletter or to view our archive.
---
Like this post? Share it! 
Never miss a post. Join our mailing list and receive free monthly updates.